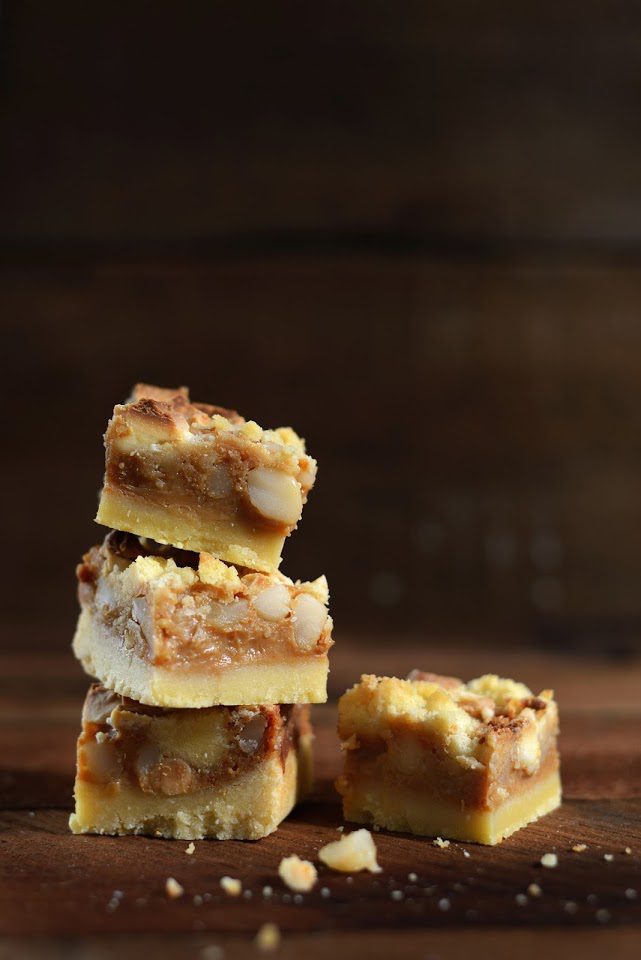 Way back in February I posted my recipe for
Chocolate, Coconut and Caramel Slice
which has ended up becoming a family favourite – especially for me because it is so quick and easy to throw together. I have been thinking for some time about doing something with white chocolate, caramel and macadamias (as you do) and today I gave it a whirl by changing up the original recipe, and by crikey the result is dangerously delicious. This would have to be my perfect "with a cup of tea and a good book on a late winter's day" treat! If you do not have hungry hordes to feed make yourself store them in the freezer and only bring out one or two a day – they are rich and decadent and a little goes a long way!
2/3 cup caster sugar
1 tsp vanilla extract
3 cups plain flour
1 tsp baking powder
1 tin sweetened condensed milk
1 tin condensed milk caramel
60g butter, softened
1 tbsp golden syrup
1 cup macadamia nuts, roughly chopped
180g white chocolate, roughly chopped
Preheat
oven to 180˚C (350˚F). Line the base and sides of a 28 x 21cm slice tin
with baking paper. In a big bowl beat butter, sugar and vanilla extract
until pale and soft. Add flour and baking powder and
mix well. Press 3/4 of the mix into the tin and smooth firmly with the
back of a tablespoon. (It will seem really crumbly, but don't worry, just press firmly). Pop in the fridge while you prepare the rest. Mix
condensed milk, caramel, butter and golden syrup in a microwave proof
bowl. Microwave on high for 1 minute and whisk until smooth, you may have to repeat this once to ensure the butter is melted and it is nice and smooth. Refrigerate for 15 minutes while you do the dishes! Pour caramel mix over base and sprinkle over
remaining base mixture, giving it a good squish as you crumble so it forms big clumps. Sprinkle over macadamias and chocolate. Bake for 30-35 minutes until golden and cooked through.
Cool in tin, remove and slice into squares, perfect to enjoy with strong cups of tea or coffee, picnic optional!