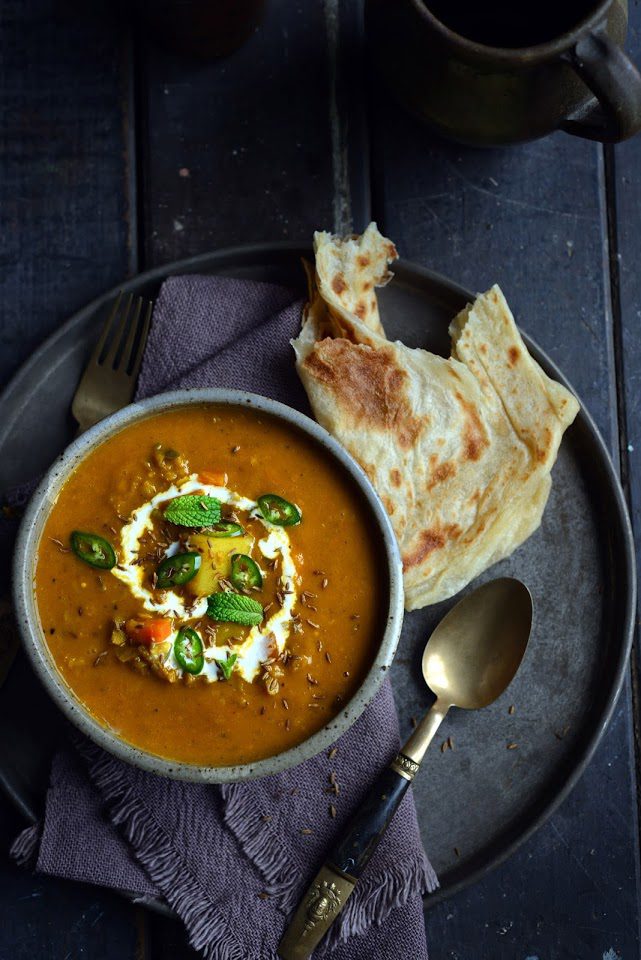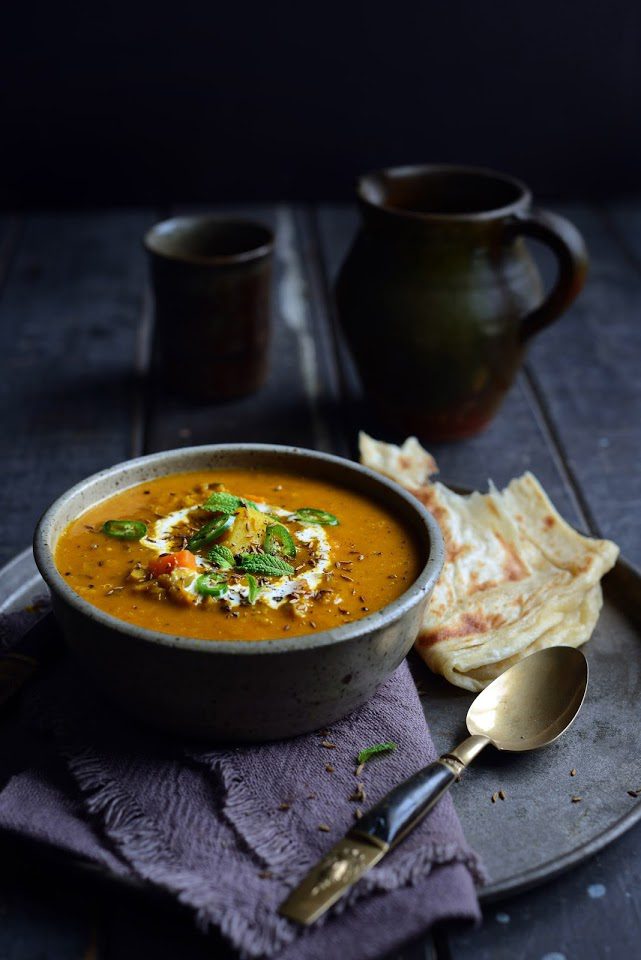 This hearty (yet not heavy) soup has been hanging around in the back of my head for ages now – fragrant with cumin, turmeric, ginger, garam masala and a hint of chilli, it is a fabulously healthy winter treat with a wee bit of naan or roti on the side. The lentils and vegetables pack a fibre punch, and the turmeric is well known for it's medicinal benefits including anti-inflammatory properties and interestingly for me particularly, possible melanoma-fighting benefits (
long story for another day!
). The addition of lemon and mint give it a bright note which works well with the mellow curry flavour…anyhoo, I hope you like it, and if you give it a go, be sure and leave me a comment, or come and say 'hi' at my
Facebook
page. Before you go, pop on over to my
home
page and have a good fossick around my recent posts, hopefully there will be other recipes there that take your fancy!
Well holy moly since I first posted this an awful lot of you have come to visit – yay – and hello! It has prompted me to put another couple of quick notes about this recipe. Firstly – please don't use canned pumpkin, this recipe is for fresh, unprocessed, regular old straight-from-the-garden pumpkin (we actually don't even have tinned pumpkin in New Zealand, other than baby food). Secondly, this is a thick soup (hearty as mentioned above). If you want a thinner consistency, feel free to add a little extra stock, I wouldn't recommend thinning with more coconut cream as you will alter the flavour. Anyway, let me know if you give it a whirl 🙂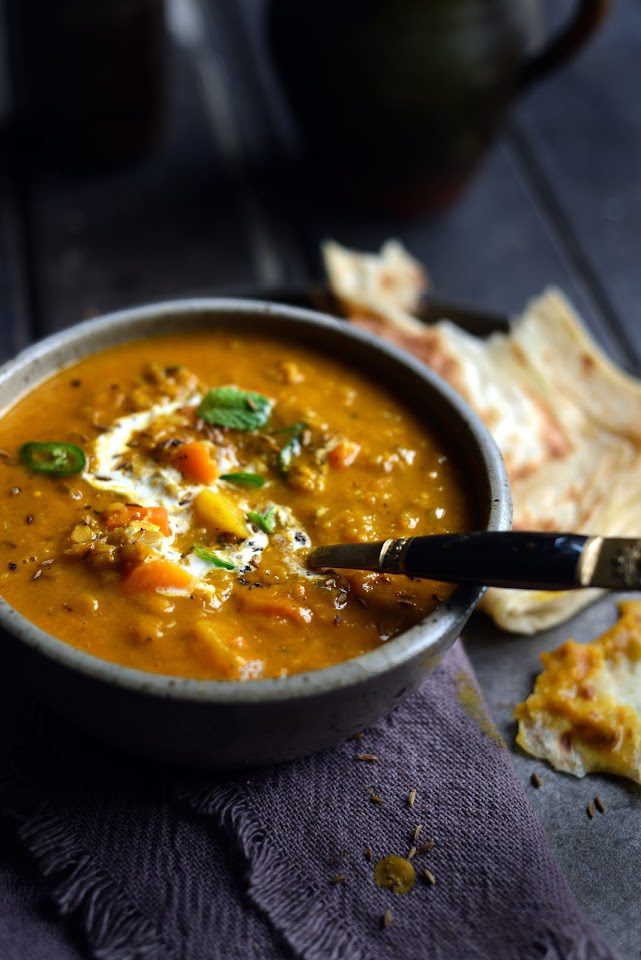 1 tbsp butter
1 tbsp Rice Bran (or other neutral) oil
1 1/2 tsp cumin seeds
1 tsp mustard seeds
1 tsp garam masala
2 tsp turmeric
1 tsp curry powder
1 onion, medium /finely chopped
1 green chilli, de-seeded and chopped (leave seeds in if you prefer more heat)
1 tbsp grated fresh ginger
1 tbsp tomato paste
finely grated zest of 1 lime or lemon
1 big tsp honey
3 cloves garlic, crushed
3 cups pumpkin, chopped into 2cm pieces
1 medium kumara or sweet potato, chopped into 2cm pieces
1 large waxy potato, peeled and chopped into 2cm pieces
1 medium carrot, peeled and chopped into 1cm pieces
1 1/3 cups red lentils
1 1/2 litres vegetable stock or water
sea salt and freshly ground black pepper
1/3 cup coconut cream
1/2 cup natural yoghurt (optional / or coconut cream)
handful fresh mint or coriander leaves
1/2 green chilli, sliced
1 tbsp dry-fried cumin seeds
1 lemon or lime, cut into wedges, optional
Heat oil and butter in a large heavy bottomed pot and fry spices for 2-3 minutes until fragrant. Add onion, chilli, ginger, tomato paste, zest and honey and fry over a medium gentle heat for 10 minutes, adding garlic in the last minute. Add vegetables and fry a further 2-3 minutes so that they are well coated in the spices. Add lentils and stock and bring to the boil, reduce heat to a simmer and cook for an hour and fifteen minutes until the lentils and vegetables are soft. Season well with sea salt and ground black pepper. Add coconut cream and cook a further 5 minutes. If you prefer a smooth soup you can whizz the whole lot, I prefer to take out half then give the remainder a bit of a whizz with the stick blender, then return the chunky bits to the pot. Serve garnished with a spoonful of coconut cream or yoghurt (optional), mint or coriander, chilli and cumin seeds. Pass lemon or lime wedges for guests to squeeze a little over, and naan or roti to dunk. Serves 6