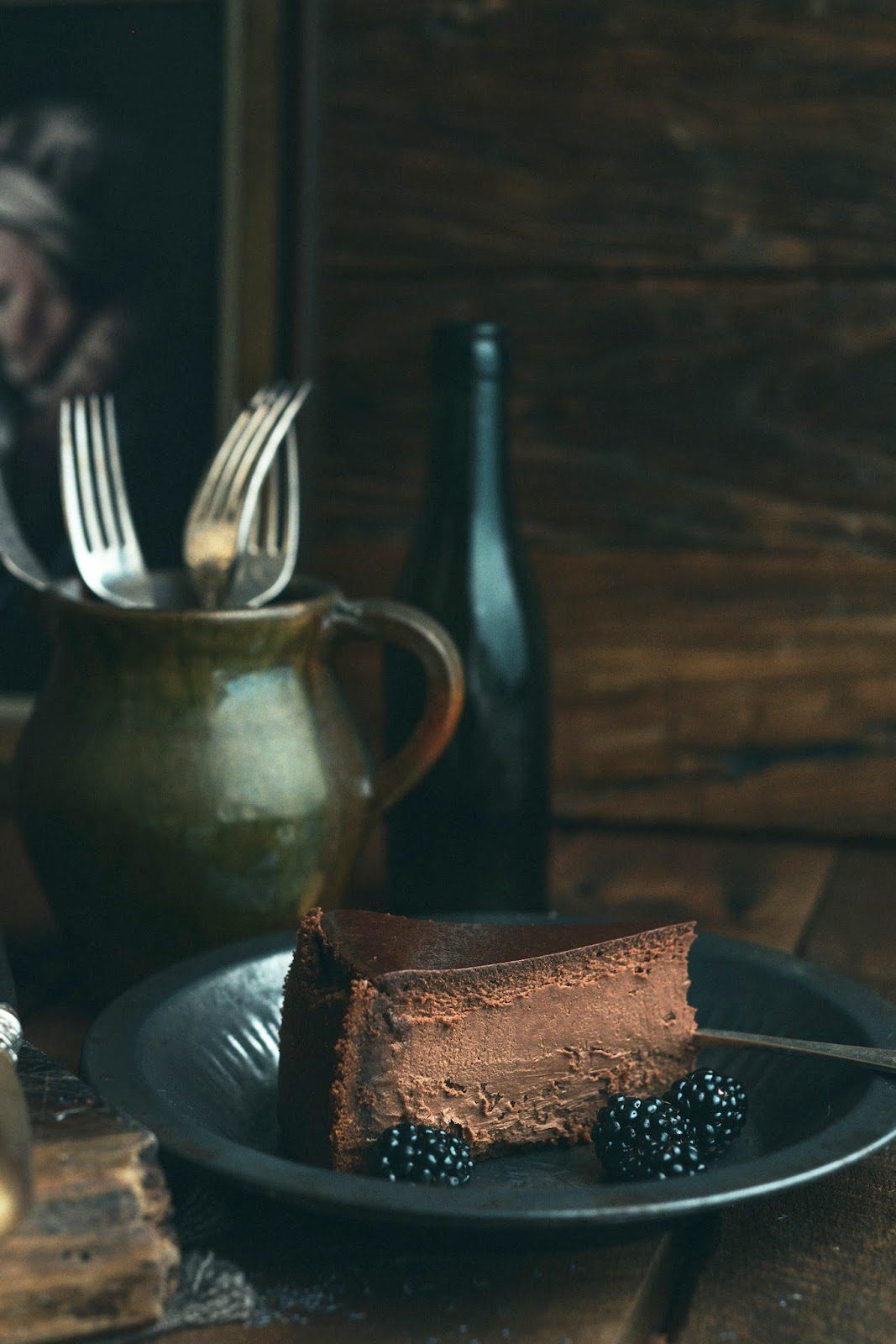 OK, if you are worried about cholesterol levels, weight issues or sugar move right along because this is one beast of a dessert. I could literally feel my arteries closing up as I made it. That said – if you are still here, as you will see, it is fairly well the most incredible looking chocolate cheesecake around – and just the thing to bring out at the end of an Easter feast – small slices to savour. The funny thing is, it is not particularly sweet, but rich? Rich? It is the Beyonce/Jay Z of cheesecakes! As I am making this before Easter to give you plenty of time to get the ingredients in to make it, I am going to serve it first for dessert in a couple of days when Henry comes home from university for the first semester break – and even though I picture him starving in a garret, despite the fact that the flat is quite a lot like a garret – he is looking after himself in fine fashion, not starving and has actually been cooking up a storm. We are off to Waiheke for Easter (yaaaaay!!!!!!!) so I will be out of action for at least a week – but keep checking in, as I'll be back with the clean-eating antidote to chocolate over-indulgence before May! Have a wonderful, safe and happy Easter 🙂
350g digestive biscuits or Graham crackers
2 tbsp dark cocoa powder
100g butter, melted
250g dark chocolate, chopped
1/3 cup Baileys or other liqueur (or strong coffee)
750g cream cheese
250g sour cream
1 cup caster sugar
2 tbsp dark cocoa powder
3 eggs
2 egg yolks
Line
the base of a 23cm
removable base cake tin with baking paper, and lightly grease or spray
the sides with neutral oil such as Rice Bran. Whiz the biscuits, cocoa
and
melted butter together in a food processor until they resemble fine
breadcrumbs then pour into the tin and squash down first with your
fingers, then smooth out with the back of a tablespoon, taking the
crumbs all the way up the sides to give the cheesecake a bit of extra
support, but keeping it not too thick on the base. You will need a straight sided glass to squish the crumbs up the sides, and of course you can roll the tin on its side to do this. You are probably hating me right now while you do this – but breathe, have a glass of water, and keep going – it will work (and it doesn't need to be perfect). Preheat the oven to
150˚C (325˚F) and pop the base in the fridge while you make the
filling.
Melt
the chocolate
either in a heat proof bowl over a saucepan of gently boiling water
(don't let the base of the bowl touch the water) or in bursts in the
microwave. Add liqueur and whisk until smooth – if it gets too solid when you add the liquid, warm it briefly and whisk again. Whiz the cream cheese,
sour cream, melted chocolate mixture, sugar and cocoa together in a food processor (just give the
food processor bowl a
quick rinse after making the base) until smooth. Add the eggs
and extra yolks and pulse to combine. See what I mean about arteries clogging during making??! Pour the filling on
top of the base.
Cook
for 1 hour and 20
minutes, then turn off the heat and allow to cool in the oven with the
door open just a crack – wedge something small in the door so its stays
just a tiny bit open. Once cool keep in the
fridge, and just remember to remove it half an hour before serving.
Serve with a bowl of fresh berries on the side.