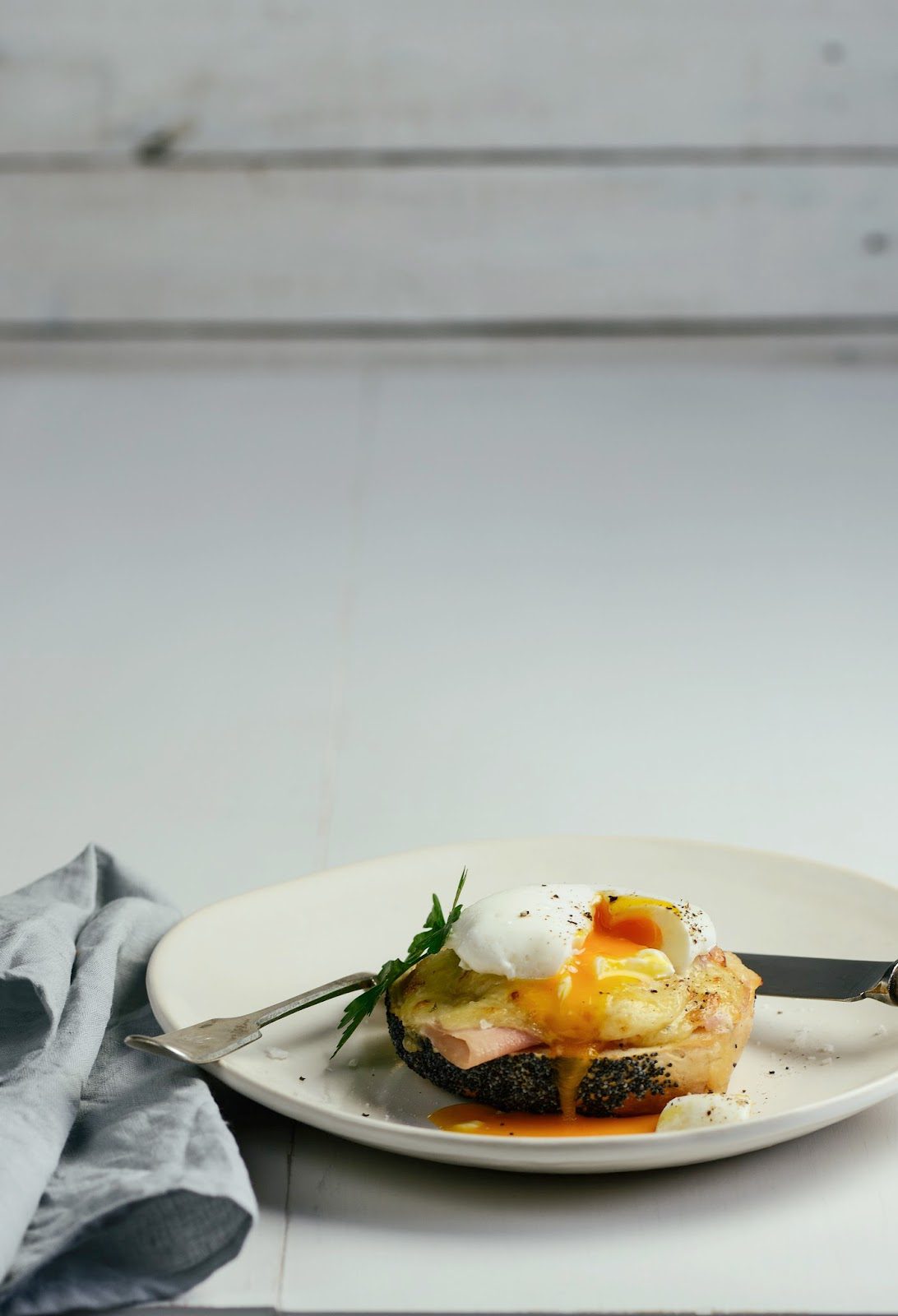 Bagels with Melted Gruyere Cheese, Ham and Poached Eggs
Bonjour!!!! Happy 14th of July – and may I present my sneaky tribute to the classic French Croque Madame – a plump toasted bagel, topped with melty gruyere cheese, good quality ham and a poached egg. I have nothing against the original in fact I love it and you will find recipes for
Classic Croque Madame
and
Croissant Croque Monsieur
on the blog, but sometimes I must confess you need something a little more instant, no messing about with a bechamel sauce, and of course bagels are always a good idea 🙂 If you happen to be watching the football world cup final at breakfast time, like here in New Zealand – this is perfect!
In other news it's been a busy old time on the home front – Rich the 16 year old had his tonsils out on Monday and is recovering in a reasonably stalwart fashion, Henry has once more flown the nest and is ensconced back in the aptly named 'Cube' in Wellington and Nick is back into the routine of work after our European adventure. As for me, I am all set to do my next shoot for Dish magazine (so exciting) and was very flattered to have been interviewed by the team for their website last week – which you can read in detail
here
. Then today I was both excited and bothered to have rearranged Henry's bedroom – his bed and desk chair are now in the garage – feeling confident that Henry will not be reading this
(if you are, sorry darling!!!
) and I have photographed every inch of his room so that it can be fully reconstructed before his return for the next holiday. In place of the furniture I now have a mini-studio with brand spanking new lights set up to use – woo hoo!!! The only bummer today was that one set doesn't go (!) so will be exchanged tomorrow – then watch out – Nick will have to drag me out of there!!! Anyhoo – on to the recipe…
This recipe serves 1-2 depending on hunger levels
1 bagel
1/2 cup grated gruyere cheese
1 tbsp sour cream or creme fraiche
2 slices good quality ham
2 free range or organic eggs
1 tbsp white vinegar
sea salt and freshly ground black pepper
parsley to garnish
OK – clearly the instructions won't take long – grill the tops of the bagels, then put them cut side up on an oven tray. Mix gruyere and sour cream together. Layer ham onto cut bagel tops then smother in cheese mixture. Bring a pot of water to a simmer and add the vinegar, and while you grill the bagels until the cheese is melty and delicious, poach two eggs for 3-4 minutes depending on your preferred degree of runniness – the French likes theirs very runny. Top bagels with poached eggs, season with salt and pepper and devour. Strong coffee recommended.