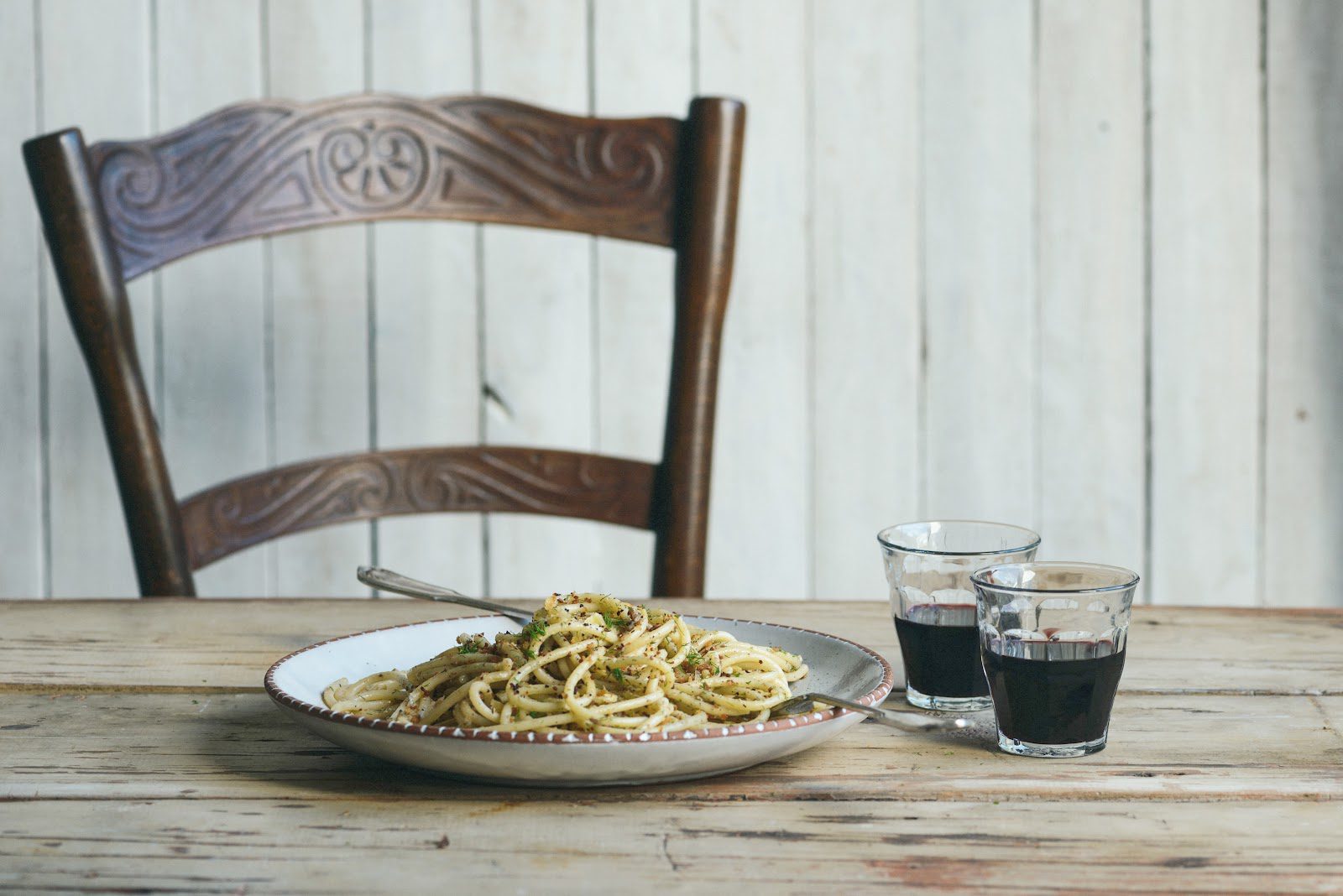 Next up is Bucatini with Anchovies, Parmesan and Fennel Seeds. If
you are not an anchovy-lover (I am only a moderate partaker of said
fish) do not be put off – it's not like you are eating big hunks of
hairy, salty, boney fish ( ahem – if you love anchovies, you can totally
do this by putting a couple of whole ones on top!!!), it's more like a
delicious mass of slightly salty, slightly cheesey, fragrantly fennely
deliciousness. On a final note, what I love about this is we are now
half a world away from Europe, snuggled up in the midst of a New Zealand
winter, but you know what – we can crank up some Italian opera, open up
a bottle of grunty red wine, light a candle or two and be transported
by our food. Cool. (Little PS – I set this up with two forks romantically thinking it would be good to share, but when Nick got home from a big run and lots of chores he 'went in' to test a mouthful and scoffed the lot…couldn't be happier – success!
3 slices white bread, crusts removed
2 tbsp olive oil
sea salt and freshly ground black pepper
500g bucatini or spaghetti
1/4 cup extra virgin olive oil
4 cloves garlic, crushed
200g white or regular anchovy fillets, drained and very roughly chopped
2 teaspoon lightly toasted fennel seeds, gently crushed
2 teaspoons freshly squeezed lemon juice
freshly ground black pepper
1/3 cup roughly chopped flat leaf parsley or finely chopped fennel leaf tips
1 cup grated Parmesan
Whiz
bread slices in a food processor to form bread crumbs. Heat oil in a
frypan and add breadcrumbs, sea salt and pepper. Toss around over a
medium heat for a few minutes until golden and crunchy.
Put
a large pot of salted water on to boil and cook spaghetti according to
packet instructions until just al dente. Drain, reserving 1/4 cup of the
cooking water. (Al dente as you know means 'firm to the bite' and
believe me, proper Italian pasta really is a little firm, certainly not
squishy…so if you don't normally, maybe try it a little firmer than
you are used to. Not solid clearly, but definitely with a little nugget
of resistance in the core of the spaghetti.) Heat oil in a large pot and
add garlic, anchovies and fennel seeds. Cook for a couple of minutes
until the garlic is fragrant but not browned and the anchovies are starting to break up. Add the pasta to the pot
with a good grinding of black pepper, the reserved pasta water, half of
the Parmesan, and half of the parsley or fennel tips. Serve with a good grinding of black pepper, the rest of the parsley or fennel tips and a sprinkling of
breadcrumbs with Parmesan passed separately around the table. Serves 4-6 (6 for lunch, 4 for dinner with a nice big salad on the side).