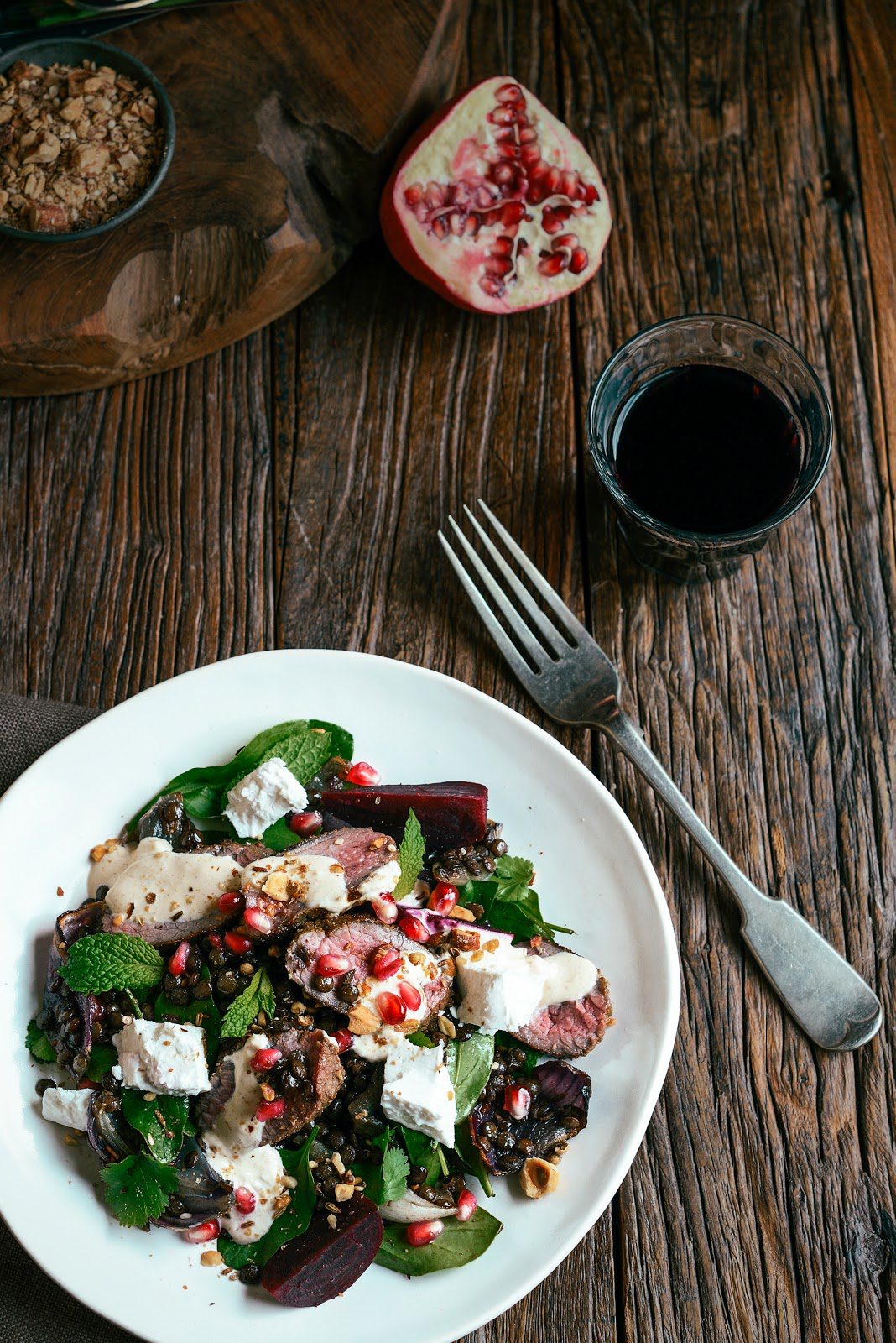 Hiya – this recipe has been in the back of my mind for ages now and I am so glad I have finally managed to make it! When you scroll down you might be a little bit freaked out at the list of ingredients, but I want to reassure you that it's just lots of things like 'cumin' repeated and this is actually a really easy dish to prepare, and the combination of flavours and textures makes it so worth the effort. Also all the prep can be done in advance, so all you have to do at the end is cook the lamb (and even that can be done earlier, and served cold/room temperature) and ta dah – it's all ready to serve. I particularly like the earthy lentils with the sweet beetroot and onion, salty feta, fresh pomegranate and spiced lamb, not to mentioned the pomegranate molasses spiked dressing…yum! I was actually really thrilled with how the combination worked, and I do think it looks pretty damned festive, so I should probably be squirelling the recipe away for Christmas, but it's here and ready to share, watchya gonna do!? Hope you enjoy it too 🙂
8 small beetroot
1 tbsp olive oil
1 tbsp balsamic vinegar
1 tsp cumin
sea salt and freshly ground black pepper (used throughout)
2 tsp sugar
2 tbsp olive oil
2 red onions, peeled and cut into wedges
1 tsp cumin seeds
1/2 tsp chilli flakes
1 tbsp sugar
1 1/2 cups puy lentils
3 1/2 cups chicken stock
2 cups water
2 tsp ground cumin
1 bay leaf
1 tbsp olive oil
6 back strap lamb fillets, each about 120g
2 tbsp cumin
4 cups fresh baby spinach leaves
250g feta
1/2 cup
dukkah
or 1/2 cup lightly toasted pine nuts,
1 cup fresh coriander leaves
1/2 cup torn mint leaves
1 pomegranate, halved
Yoghurt dressing:
1 cup natural yoghurt
zest and juice of 1 large lemon
2 tsp pomegranate molasses
1 tsp cumin
1/2 tsp chilli flakes
1 clove garlic, crushed
Season lamb fillets with cumin, salt and pepper and put to one side. Pre-heat oven to 180˚C (350˚F). Line a roasting dish with tinfoil. In the middle, put beetroot, then drizzle over oil and vinegar, and sprinkle over cumin, salt, pepper and sugar. Fold the tinfoil up around them and fold over the top to create a sealed parcel. Roast for 45-60 minutes (depending on how small your beets are) until they can easily be pierced with the tip of a knife. Lift out beetroot and tinfoil and put aside to cool for 10 minutes. Add onion wedges to the same oven dish and sprinkle with cumin, salt, pepper, chilli flakes, sugar and olive oil and roast for 30-35 minutes until tender and caramelised (give them a stir around about 15 minutes into cooking). Once beetroot are cool enough to handle use a small paring knife to cut off the tops and peel the outer skin.
Put lentils, stock, water, cumin and bay leaf in a pot and bring to a boil. Reduce the heat to a simmer and cook for 20-25 minutes until just tender. Drain well, put in a bowl and add olive oil, sea salt and pepper to taste, and put to one side.
Heat olive oil in a pan or on the barbecue and cook fillets on a medium high heat for 3-4 minutes on each side (depending on thickness). Remove from the pan and cover with tinfoil to rest for 10 minutes. While the lamb is resting cut the beetroot into wedges and prepare the dressing by whisking all of the ingredients together.
To serve – layer spinach and lentils onto a large serving plate. Slice lamb fillets against the grain and arrange on top with onion wedges, feta, (crumbing it into chunks), coriander and mint. Whisk dressing ingredients together and drizzle onto salad then tap pomegranate seeds on top by holding the pomegranate halves cut side down over the salad and whacking with the end of a wooden spoon. Finish with a sprinkling of dukkah or pine nuts. Bloody delicious 🙂