Well this makes a change – for once I am neither propped up in bed nor at my desk, but at the hairdresser! (Loving the wifi 🙂 ) You may have been wondering if perhaps I had been abducted by aliens given the length of time between posts. The truth is far less exciting – I have been having a bit of a rough time lately for one reason and another, which I won't go into here, and am only just starting to poke my head back above the parapet. (No drastic worries – it's not health related).
 So, here I am, waiting for my hair colour to do it's thing and anticipating escaping to Melbourne this weekend to go and have a visit with Henry for Mother's Day. Luckily I had a good catch up with Rich when he was home on uni break – but I will miss not being with both the boys on Sunday – them's the breaks hey? I will miss seeing my Mum too, but had her over for a girls' night recently, making her a twice baked pumpkin souffle (work in progress), and vanilla rhubarb layer cake which we had with a few wines and then collapsed on the couch to re-watch The Dressmaker. If you are planning a catch up with your mum this weekend, this might be just the cake for you. It took quite a bit of testing to get it just right – sweet, but not too sweet, moist but not 'sinky' and the caramel sauce lightened with a little mascarpone is just the thing to finish it off. Go give your mum a hug this weekend (even a virtual one) – you know she'll love it!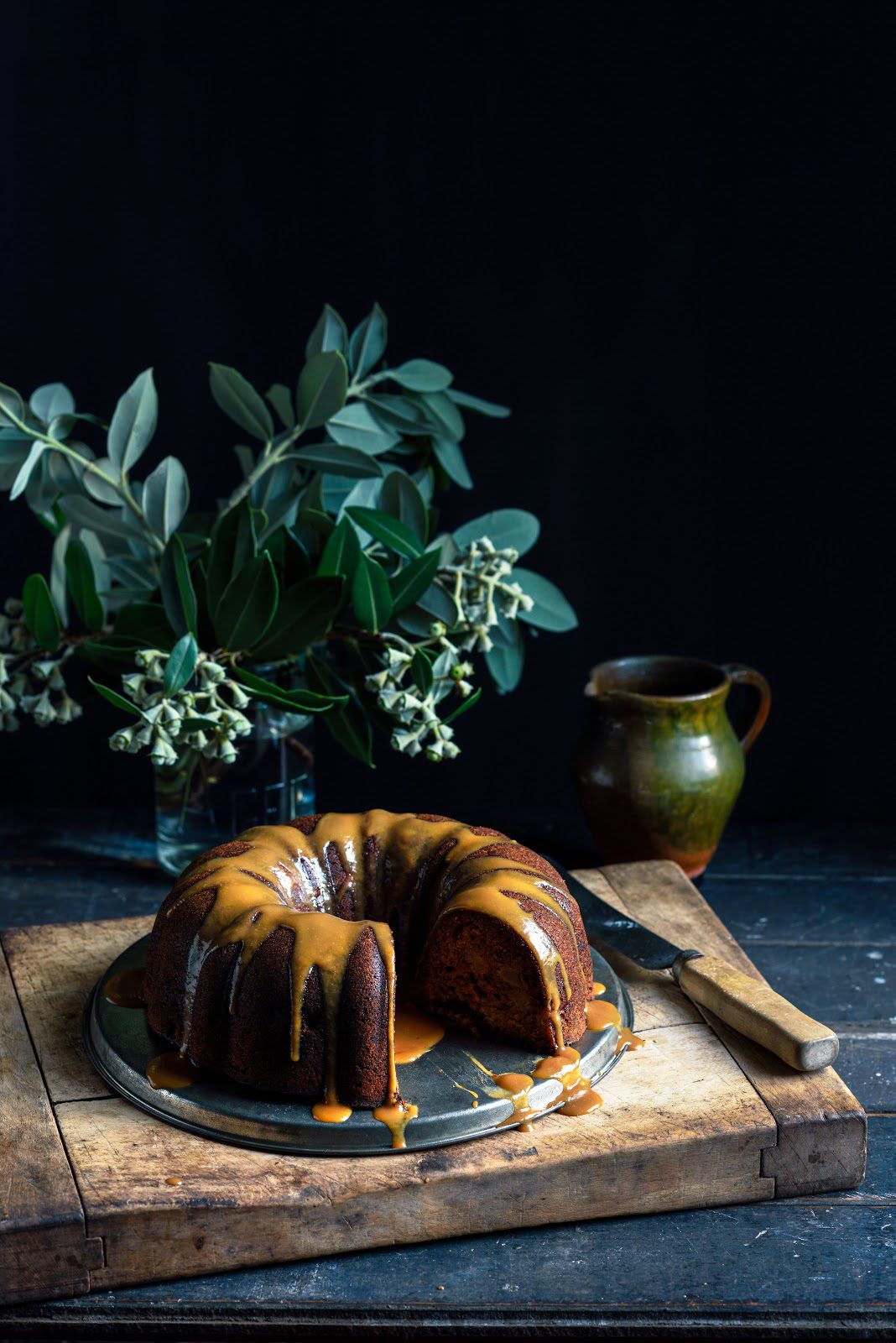 1 ½  cup dates, chopped
1/2 cup boiling water
1 tsp baking soda
200g butter, softened
1 cup brown sugar
1 cup caster sugar
3 eggs
2 teaspoons vanilla extract
2 2/3 cups self raising flour
2 teaspoons ground cinnamon
2 teaspoons ground ginger
3 medium pears, peeled, cored, and chopped into 1-2cm dice
Spray a 24cm bundt tin with baking oil spray and preheat the oven to 170˚C (335˚F).Pour boiling water over dates, stir in baking soda and leave to one side. Beat the butter and sugars together for 5 minutes until pale and fluffy. One by one add the eggs and vanilla mixing well after each addition until well combined. Add dates and soaking water and mix together. Sift the flour and spices together, then fold into wet mixture. Add one pear and stir to combine. Plop one third of the mixture around the base of the prepared bundt tin. Add remaining pear to cake mix then plop on top of mixture already in the tin and smooth gently with the back of a spoon. Bake at 170˚C (335˚F) for 60 minutes, then reduce the temperature to 150˚C (300˚F) and bake a further 15 minutes. Cool half an hour in the tin before removing and serving with caramel mascarpone sauce and optional whipped cream or vanilla bean ice cream.
Caramel Sauce:
1 cup caster sugar
4 tbsp water
300ml cream
2 tablespoons mascarpone
Heat caster sugar and water together in a pan over a medium heat until the mixture has crystallized, then turned a light golden color. Remove from the heat and microwave cream for about 1 minute or so until almost boiling – it must be very hot – not tepid. In amounts of about 1/4 cup at a time whisk hot cream into hot caramel sugar – it will froth up madly in a freaky way, but just whisk hard and keep adding in small amounts until it is all incorporated…worth the effort! Once cooled pour into a bottle and store in the fridge. Before serving whisk mascarpone into 1/2 cup of caramel sauce and pour over cake. Remaining caramel sauce can be served on the side or stored in the fridge and heated to serve over ice cream.