Morning all – well it's been a while 'between drinks', but this is a great little vege-loaded mid-week recipe which is super healthy and pretty quick and easy to put together. During winter I often crave big hearty stews or pies (…see recent pie extravaganza), and when I need a vegetable fix I usually go for soup, (check out loads of soup recipes in the index), but sometimes I like veges that you actually need to chew! This salad is served warm – the carrots, kumara, cauliflower, red pepper, onion and chickpeas are tossed in honey, olive oil and cumin seeds before being roasted, so are sweet and fragrant, and a great contrast to the peppery watercress or rocket, then everything gets a mighty fresh lift with the creamy dressing of salty feta, a hint of pungent garlic, fresh coriander and zesty lemon. On the side 2-minute crispy garlic flatbreads act as massive, crunchy croutons. If you can't live without meat feel free to serve alongside roast lamb, or topped with seared lamb loins… but to my mind it really doesn't need it. (As you may have gathered I am probably 90% vego, but each to their own).
In other news, I have booked myself in for a ton of work, so am writing this (as usual) early in bed with my cup of tea before going into full panic/manic mode shortly. It's hard to blog honestly and not mention the recent change in my domestic situation, but basically these days it's just me at home unless the boys are visiting, so outside work, it's been a flurry of yoga, meditating (don't laugh/look at me like that), walks, writing in a journal (quite spectacularly full of swearing – how I refrain on the blog is a 'bloody' mystery), and getting emotional support from professionals and gorgeous friends. Not much more to say on that front other than blergh. Oh – and as the icing on the cake I have spent the last week driving between home and the emergency vet specialists to visit dear little-old-man Dougie (the 11 year old Border terrier), who has been very ill, actually at death's door, before having his gall bladder removed and bile ducts flushed. He was touch and go for a while post-op, but is now much improved, the only concern is that he hasn't eaten in 5 days – so cross your fingers that today is he day, so that he can regain his strength and come home, crikey it is too weird that for the first time ever it is an all-female household with just Maggie (the Westie) and me! Hopefully when I post the next recipe Dougie will be once again quietly farting and snoring in the dog bed in the corner…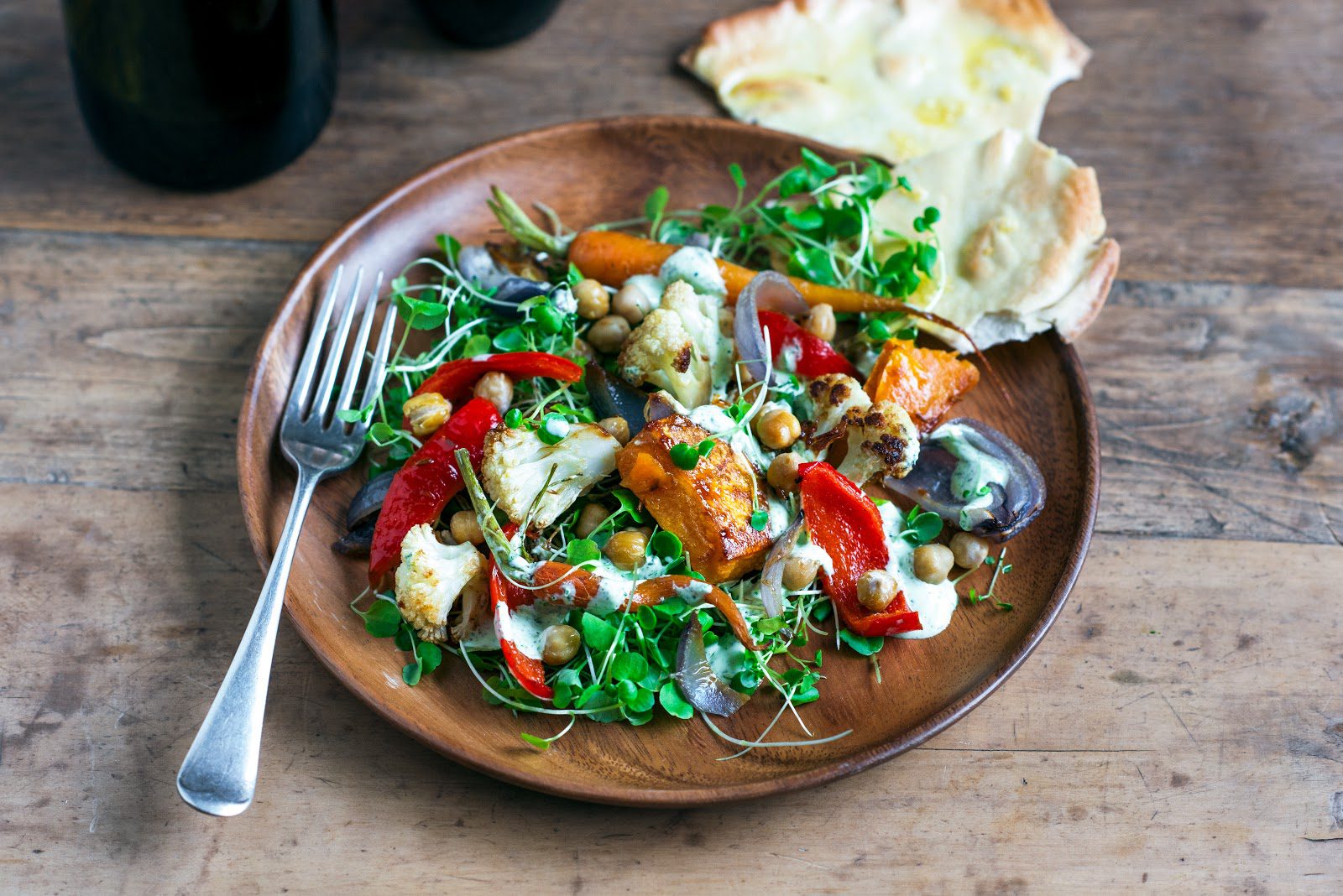 12 baby carrots, scrubbed, green tips trimmed
½ small cauliflower, cut into florets
1 red pepper, sliced into 1cm strips
1 red onion, cut into 8 wedges
1 orange kumara, peeled and roughly chopped (use pumpkin if you prefer)
2 tablespoons olive oil
1 teaspoon ground cumin
1 tablespoon honey
2 teaspoons cumin seeds
300g tin chickpeas, drained
6 cups baby watercress or wild rocket leaves.
Preheat the oven to 180˚C. Put the carrots, cauliflower, red pepper, onion and kumara in a single layer in a large roasting dish. Whisk together the olive oil, ground cumin and honey and drizzle over the vegetables. Season the vegetables with sea salt and ground black pepper and sprinkle with cumin seeds. Toss the vegetables a little to make sure that they are well covered – if necessary drizzle with a little more oil. Roast the vegetables for 25 minutes, remove from the oven and add the well drained chickpeas to the dish. Toss together lightly and roast a further 5 minutes. Leave the vegetables to cool for a few minutes while you make the dressing. To serve, spread the watercress on a serving platter and top with the vegetables and chickpeas. Drizzle with feta, coriander and yoghurt dressing and serve with quick garlic flatbreads. Serves 4
Feta, Coriander & Yoghurt Dressing:
100g feta, roughly chopped
½ clove garlic, crushed
finely grated zest of 1 lemon
1 ½ cups loosely packed coriander leaves
½ cup yoghurt
1 tablespoon water
Place all ingredients in a small food processor and whiz until smooth. Store in a sealed container in the fridge until ready to serve. This dressing also makes a great dip for crudites to serve with drinks. Makes about 3/4 cup.
Quick Garlic Flatbreads:
2 tablespoons olive oil
2 cloves garlic crushed
4 Lebanese bread rounds
Preheat the oven to 180˚C or if serving with the salad, leave the oven on after cooking the vegetables. Mix the oil and garlic together in a small jug and brush over the flatbreads. Cook 3-4 minutes until golden and crispy.