Happy Friday! I was going to call this a picnic tart and salad, but given the weather forecast for the weekend I won't…let's call it a summer harvest tart instead? Personally I can't wait for a bit of wild, wet weather, lovely as the summer sun has been, it's just about at 'too much of a good thing' level, but of course by next week it'll be welcome again! So, the tart uses my favourite savoury pastry, which is very bloody easy – just bung everything in a food processor and give it a whiz. The sweet kumara, savoury chicken and rich cheese filling pair perfectly with the bright flavours in the salad – sweet corn, ripe tomatoes and creamy avocado. Maybe hunker down with a picnic indoors this weekend?!

Aaaaand in other news, it's been a busy old week with a wee appearance on TV One Breakfast on Wednesday (link here if you fancy having a look on my FB page). In typical fashion I was wildly over prepared then ran out of time to say half of the things I had meant to! It was so much fun to give something a bit different a go, and next time I'll know what I'm doing…hopefully. Apart from immersing myself in corn during the week I nipped into the Fitzroy Lounge Bar for a drink last night before heading to Gemmayze Street for a farewell dinner for one of my lovely nephews who heads overseas this weekend. Sunday night I'll have Hoob and Raven here and we'll be tootling off for a family night at Cirque de Soleil which always leaves me feeling amazed and physically inadequate – so much talent and dedication! The lovelies are only here for one night so I shall make the most of it. Right, that's enough from me. Stay dry. Eat tart.
chicken & kumara tart
serves 4-6
pastry:
1 1/3 cups plain flour
120grams butter, chopped
1/3 cup finely grated parmesan
1 egg yolk
filling:
1 tablespoon olive oil
1 onion, chopped
3 cloves garlic, crushed
350grams kumara, chopped into 3cm pieces
350grams cooked, shredded chicken
¼ cup cream plus 1 tablespoon
4 whole eggs
2 egg yolks
2/3 cup grated Parmesan
¼ cup chopped parsley
For the pastry, pulse the flour, butter and parmesan in a food processor until the mixture resembles fine breadcrumbs. Add the egg yolk and pulse to combine. Tip the mixture out onto the bench and press and roll together into a dough log. Wrap in plastic wrap and chill in the fridge for 10 minutes. Preheat the oven to 180˚C. When the pastry has rested, slice off ½ cm rounds of the pastry and press them into the base and sides of a 25cm loose-bottomed tart tin, patching as you go. Chill in the fridge while you prepare the filling.
Heat the olive oil in a large frying pan, add the onion and cook for 5 minutes. Add the garlic and kumara, and cook together, stirring for a further 15 minutes until the kumara is able to be pierced through with a knife. Add 1 tablespoon of the cream and stir to dislodge any flavourful bits sticking to the pan. Remove from the heat and leave to cool. Put the remaining cream, eggs, egg yolks, Parmesan and parsley in a food processor and whiz to combine.
Line the base and sides of the pastry with baking paper and fill with baking beans or raw rice. Cook the pastry for 12 minutes, remove the baking paper and weights, and continue cooking for a further 12 minutes. Spread the kumara and onion mixture and shredded chicken evenly over the pastry base and pour over the egg mixture. Reduce the oven temperature to 170˚C and cook a further 25-30 minutes until the tart is golden. Leave the tart in the tin for transportation and serve with a good tomato chutney and corn, tomato and avocado salad.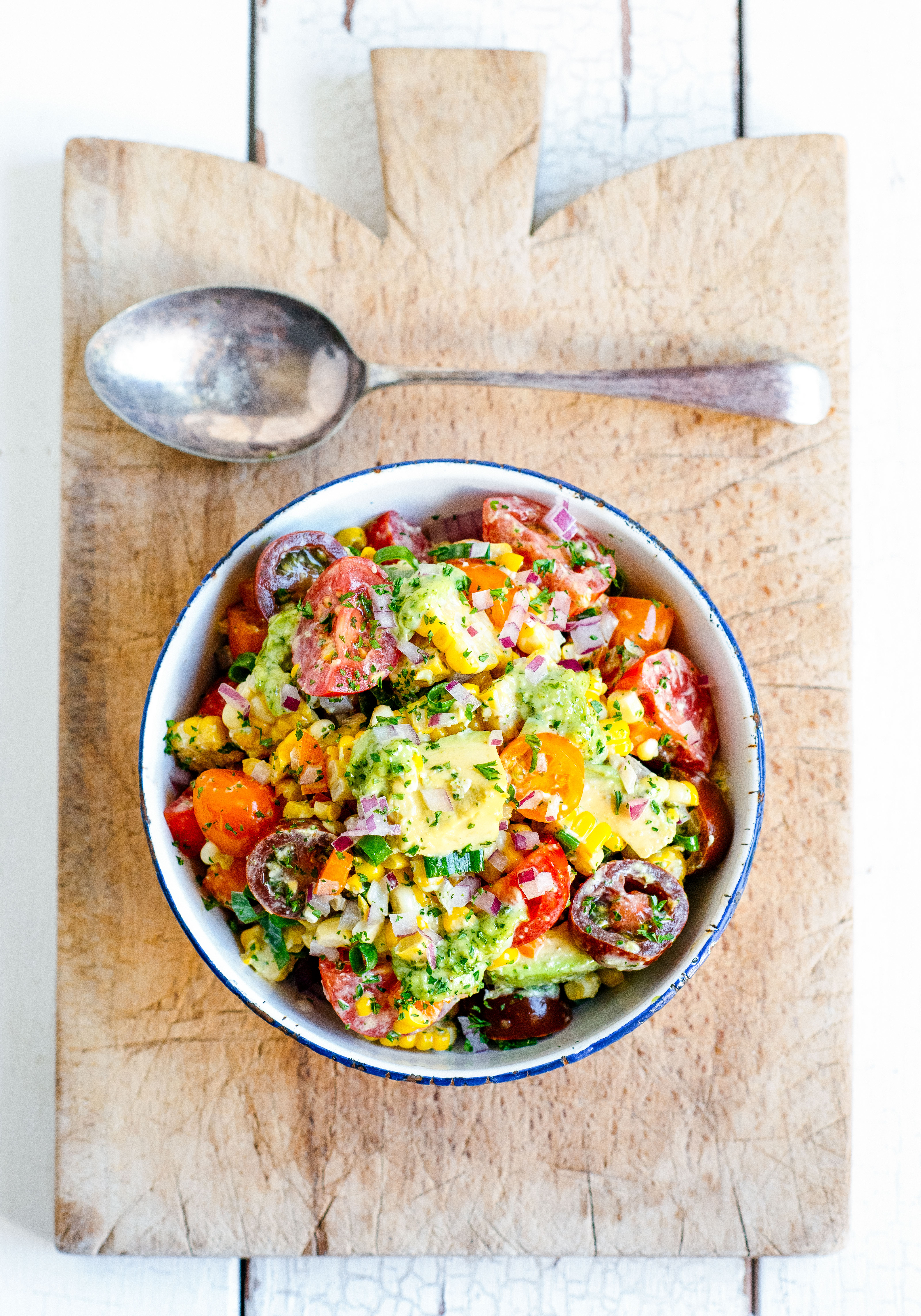 corn, tomato & avocado salad
serves 6
3 cobs corn
350 grams mixed tomatoes, small ones halved, large ones quartered
1/2 orange capsicum, chopped
1 avocado, halved and chopped
½ small red onion finely chopped (reserve a little to garnish)
2 spring onions, sliced
¼ cup chopped parsley (reserve a little to garnish)
¼ cup good quality mayonnaise
2 tablespoons basil pesto
Bring a large pot of water to boil, add the corn and cook for 8 minutes. Drain, refresh under cold running water, and once cold enough to handle hold the cobs at the top end and slice the kernels down onto a breadboard. Put the corn in a large bowl and chill in the fridge for half an hour. Add all of the remaining ingredients except the mayo and pesto and fold together. Mix the mayo and pesto in a small bowl and stir through the salad. Season with salt and pepper, cover and refrigerate until ready to serve, up to two hours. Garnish with remaining parsley and red onion to serve.