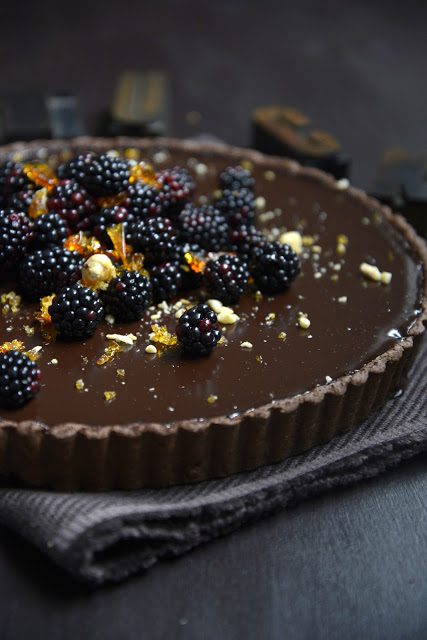 Off to a dear friend's place for dinner tonight, so I begged her to let me bring dessert so that I could post a blog, and practice my photography! The tart has a chocolate pastry base filled with dark chocolate ganache and topped with juicy blackberries. The hazelnut praline gives a really nice crunch as a contrast to the soft textures. I am already planning on making another one and thinking of serving it with poached black doris plums.It has been a while since I posted this, but I keep seeing the pic re-pinned on Pinterest (yippee). Welcome to my blog From the Kitchen, and please feel free to check out my
index page
for lots more recipes or head to the
home
page for a good fossick around. I would love for you to come over and say 'hi' at my
Facebook
page or leave me a comment about what other recipes you would like to see! 🙂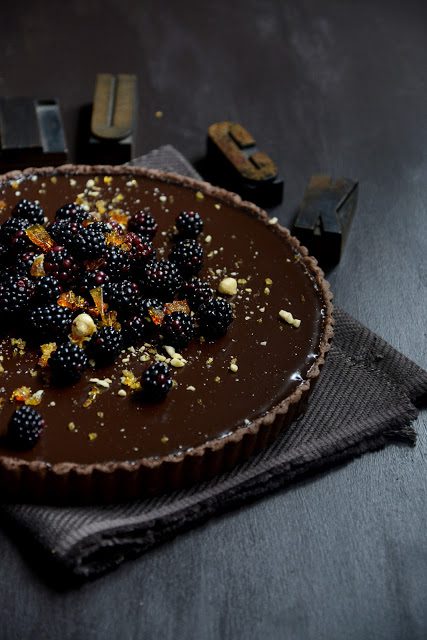 Chocolate Filling:
700mls cream
700g dark chocolate, chopped
Pastry:
2 cups flour
1 Tbsp dark cocoa powder
pinch of salt
1/4 cup caster sugar
150g cold butter, chopped into cubes
2-3 Tbsp iced water
Hazelnut Praline:
11/2 cups hazelnuts
200g sugar
3 tablespoons water
To serve:
2 cups fresh blackberries
200ml cream, softly whipped
Chocolate Filling:
Heat cream in a microwave or pot until almost boiling. Add chocolate and whisk until smooth. (It may need a tiny bit of extra gentle heating to melt fully). Cool for 15 minutes, then pour into pastry shell.
Pastry:
Whizz flour, cocoa, salt and sugar in a food processor. Drop in butter and pulse until mixture resembles fine breadcrumbs. Slowly add iced water and pulse until mixture forms big clumps. Tip onto the bench and squish together. Wrap in plastic wrap and refrigerate for half an hour. Preheat oven to 180˚C (350˚F).  Roll pastry out between two sheets of baking paper and line the base and sides of a 26cm tart tin. Pop in the freezer for 15 minutes. Cut out a circle of baking paper slightly bigger than the tart tin, and put in pastry case. Fill with baking beans or rice and cook for 12 minutes, remove baking paper and baking beans and cook a further 10 minutes. Leave to cool for 15 minutes, then pour in filling, and allow to set a little (for about 15 minutes) then refrigerate for at least six hours before serving. Top with blackberries and crumbled praline and serve with whipped cream and extra berries – and good quality vanilla bean ice cream!
Hazelnut Praline:
Preheat oven to 180˚C (350˚F) and put hazelnuts on a baking tray. Put a square of baking paper on a dinner plate ready for praline. Bake hazelnuts for 10 minutes until fragrant and colored. Remove from the oven and rub the hazelnuts between a folded tea-towel to remove the bitter skins (as much as possible). Heat the sugar and water together in a medium size, heavy based saucepan. Cook over medium heat without stirring, until the sugar has dissolved and caramelised, turning a rich golden colour. The amount of time varies but can be more than 5 minutes. Keep an eagle eye on the caramel so that you don't miss the magical point between golden and rich, and black and bitter. As soon as you have a golden amber liquid tip in the hazelnuts and coat in caramel. Quickly pour onto the baking paper and leave to set. Caution: do not put your fingers any where near the caramel, it is viciously hot! Once praline is cold you can whizz it in a blender or smash it into chunks with the end of a rolling pin – up to you whether you like your praline chunky or fine!