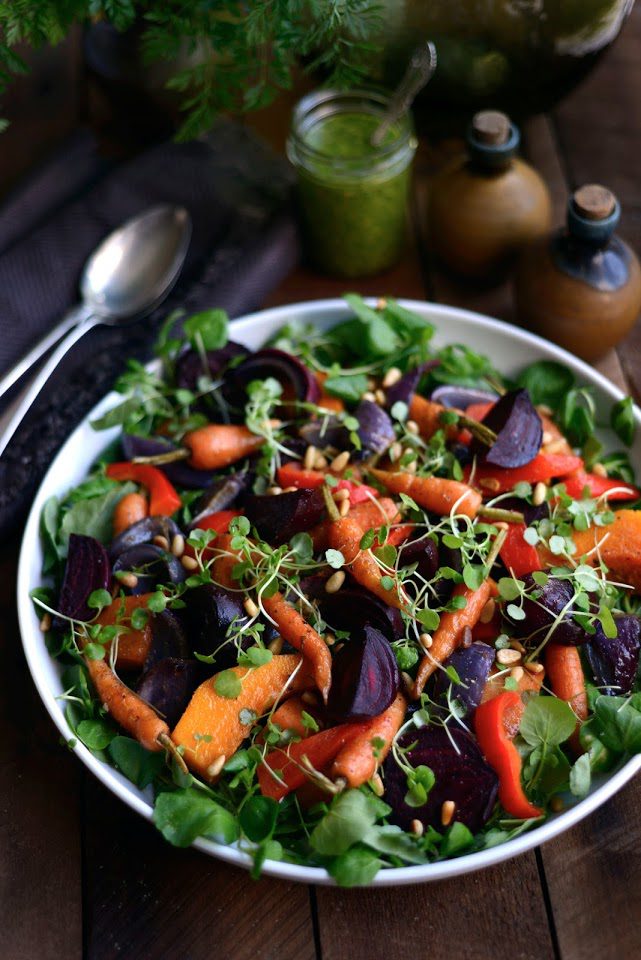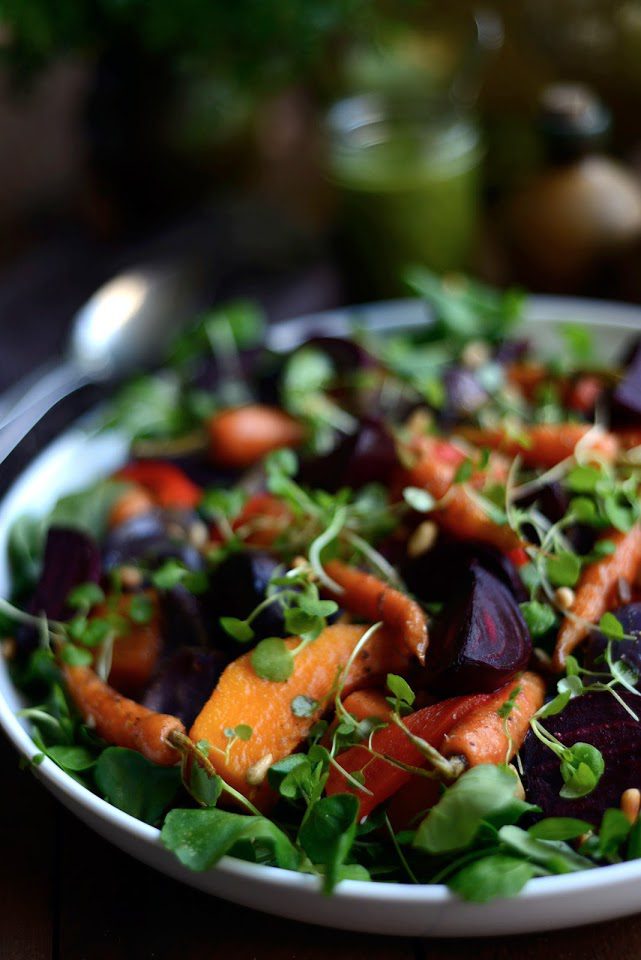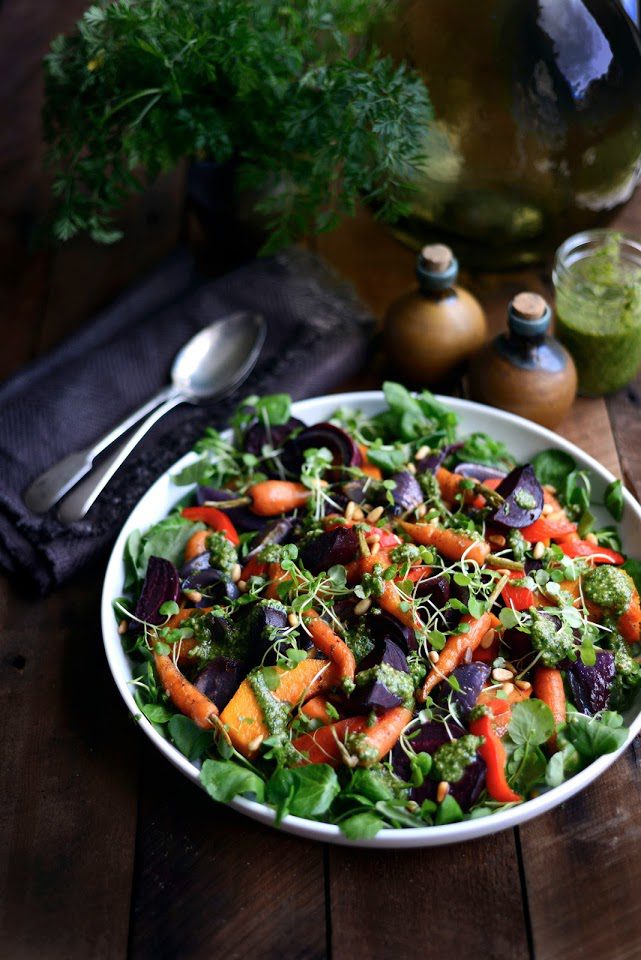 I am going to call this salad 'Dr Feel Good'. (As a tribute to Aretha's song – not the Motley Crue one!) Packed with vitamins A, B6, C, E, K and potassium, magnesium, zinc and fibre it is a veritable anti-aging, cold-fighting, antioxidant extravaganza and it tastes A-Mazing. You will love it.
5 medium/small beetroot (not baby)
1 tbsp runny honey
1 tbsp olive oil
2 tsp balsamic vinegar
sea salt and ground black pepper
1 large sweet potato or kumara, cut into chunks
500g pumpkin, cut into wedges
1 bunch baby carrots, about 8-10, scrubbed and trimmed
1 large red onion, peeled and cut into 8 wedges
2 tbsp olive oil
2 tbsp runny honey
sea salt and ground black pepper
1 tsp ground cumin
1 tsp ground coriander
1 whole red pepper (capsicum/bell pepper), top stem removed
Pesto Dressing:
1/2 cup extra virgin olive oil
1/4 cup lightly toasted pinenuts
1/4 cup grated parmesan
1 clove garlic, crushed
1 handful fresh coriander (cilantro) leaves
1 handful fresh basil leaves
sea salt and ground black pepper
To serve:
3 handfuls watercress, rocket or baby spinach
1 handful baby watercress or microgreens
1/4 cup lightly toasted pinenuts
OK – do not freak out at the long list – this salad is very easy to prepare, a little time consuming but well worth the effort!!! (And look – I have broken it down into easy steps!) Preheat the oven to 190˚C (375˚F) then put the unpeeled beetroot in a pot, cover with water and bring to the boil. Reduce heat to a simmer and leave to cook for 30 minutes, making sure water level stays covering the beetroot.
While beetroot is cooking prepare the other vegetables. Lay them all out (apart from the red pepper) in a single level in a large roasting pan. Drizzle with oil and honey and sprinkle with spices. Cook in the oven until just tender, about 30 minutes.
When the beetroot has had 30 minutes simmering, drain and leave to cool for 5 minutes. Peel off the skin (wear gloves if you don't like beetroot coloured fingers) and cut into halves or wedges. Put in a separate oven dish and drizzle with honey, oil and vinegar and season with salt and pepper. Put in the oven on a separate oven rack for the last 15 minutes of the other vegetables' cooking time, or just cook separately for 15 minutes if that doesn't work for you (still at 190˚C (375˚F).
Right – almost there. When the vegetables are finished and cooling in their delicious juices, crank the oven up to 220˚C (425˚F) and pop in the red pepper. Bake for 20 -25 minutes until blackening on the outside and smelling horrible – perfect. Put straight into a glass bowl or jug and cover with plastic wrap. Leave to cool for 15 minutes then peel off skin and cut into strips. While this is cooling whizz all of the Pesto Dressing ingredients in a food processor.
Time to assemble! Start with a layer of watercress then top with all of your lovely vegetables. Garnish with baby watercress and pinenuts and spoon over Pesto Dressing to serve. Serves 6-8 as a side or 4-6 as a main meal. If you wold like protein with this – add crumbled soft goat cheese, or serve with seared lamb fillet or lamb racks.