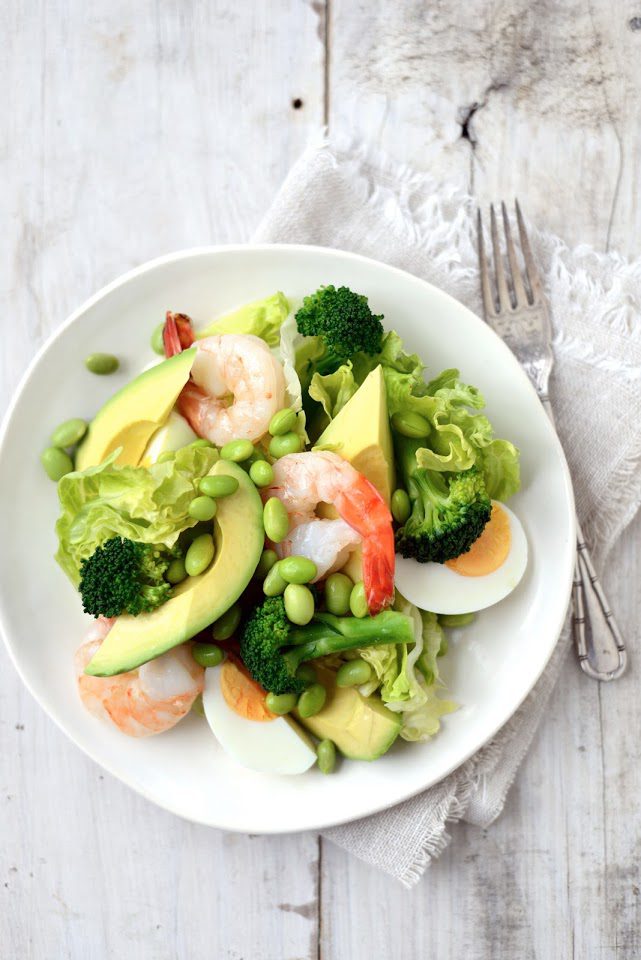 Packed with a power punch, this a
seriously lean, mean salad with an aromatic sesame flavoured dressing.
If you train regularly, or you just want to give your body a boost –
this is the salad for you! Don't forget to check out my
recipe index
page while you're here for loads more salads (and other deliciousness too…).
If you have just popped in to my blog for the first time – welcome! – and please feel free to have a good poke around 🙂 If you fancy, pop on over and say 'hi' at my
Facebook
page or leave a comment, I'd love to know what you think…Happy eating!
1 head broccoli, cut into florets
250g edamame beans
1 iceberg lettuce, cut into wedges
2 avocadoes, cut into wedges
20 cooked prawns
3 hard boiled eggs, cut into wedges
1/3 cup good quality mayonaise
2 tbsp water
1/2 tsp sesame oil
1 tbsp toasted sesame seeds
1/2 tsp chilli oil (optional)
sea salt (optional)
Bring a pot of water to boil and drop in
broccoli and edamame beans. Boil for 2 minutes then drain, refresh
under cold running water and allow to cool. Layer lettuce, broccoli,
beans, avocados, prawns and eggs onto 4 serving plates. Whisk
mayonnaise, water and sesame oil together and drizzle over salad plates.
Sprinkle with toasted sesame seeds. (Chiili oil and sea salt optional –
personally I'd go for the chilli oil every time!) Serves 4