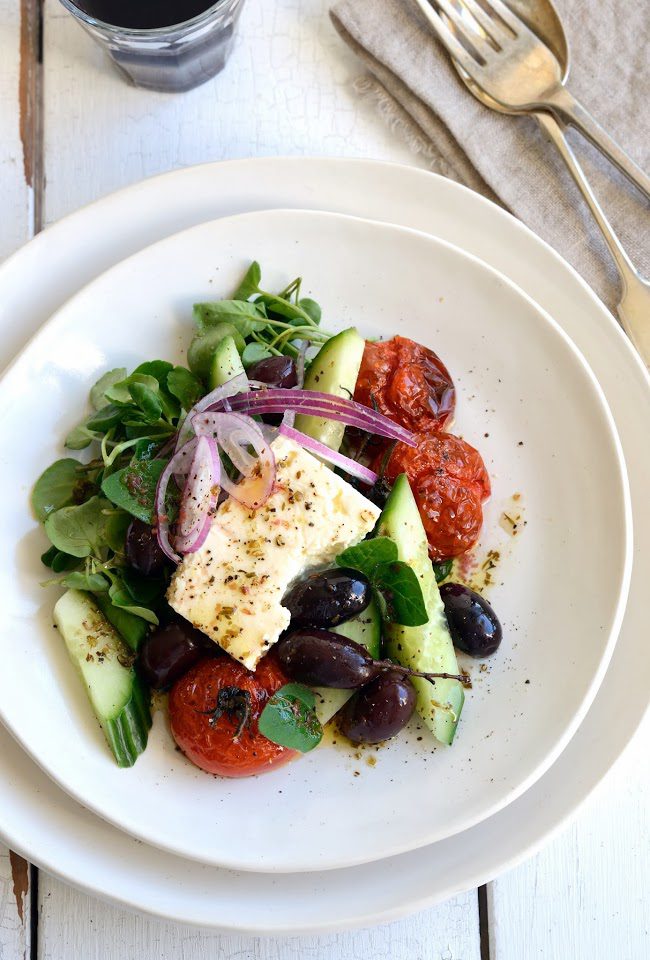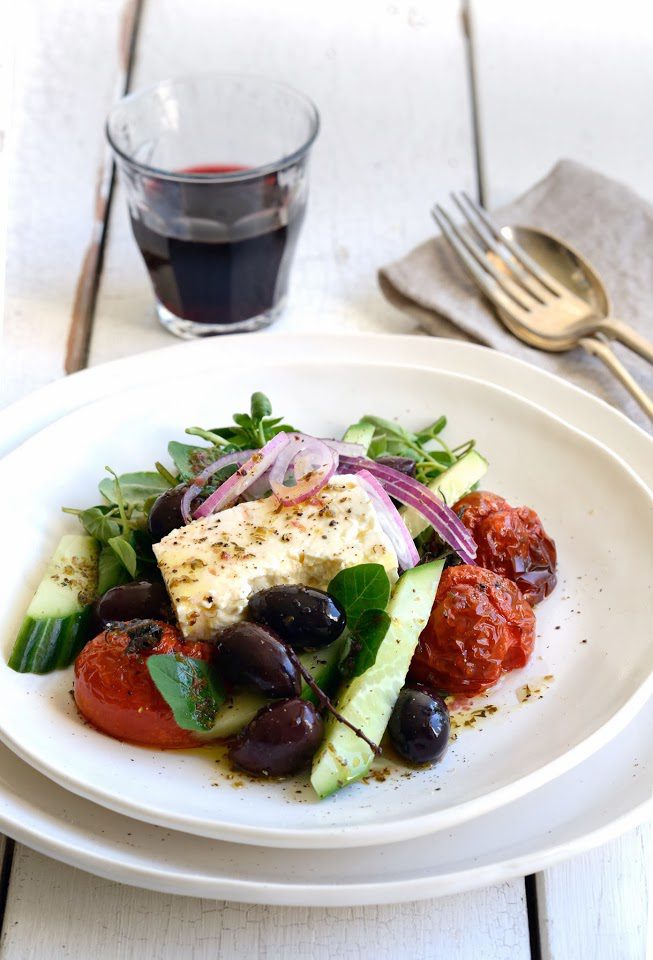 Another gorgeous day here in Auckland – yippee! (Two in a row – is this some kind of record??) This kind of weather really puts you in the mood for getting a few friends together and eating outside – not us tonight though, Rich the 16-year-old is walking in his first fashion show so we're off to watch – can't wait! If you also find yourself somewhere warm at the moment, this updated version of a Greek salad is another really good barbecue 'side' or first course, and again is absolutely perfect with lamb. To slow-roast lamb just check out my recipe
here
, which you can easily do on a lidded barbecue, just keep an eagle eye on the temperature. Wherever you are, wishing you all the very best for a happy weekend! 🙂
16 small vine ripened tomatoes
2 tbsp olive oil
sea salt and freshly ground black pepper
2 tsp caster sugar
2 tsp balsamic vinegar
1 red onion, thinly sliced
1 1/2 large telegraph cucumbers
2/3 cup kalamata olives
leaves from 2-3 sprigs fresh oregano
1/3 cup roughly chopped mint
500g goat or sheep feta cheese
150g watercress
Dressing:
1/4 cup extra virgin olive oil
2 tbsp red wine vinegar
1 tsp dried oregano
sea salt to taste
1 tsp caster sugar
Preheat oven to 150˚C (300˚F) and combine oil, salt, pepper, sugar and balsamic vinegar in a small jug. Whisk to combine. Line an oven dish with baking paper and position tomatoes reasonably snugly into it. Pour oil mixture over tomatoes and cook for 50-60 minutes until slightly shrivelled and bursting with flavour. Put red onion slices in a cup of iced water for half an hour to crisp up and slightly reduce its sharpness. Halve cucumbers lengthwise and scoop out the seeds with the tip of a teaspoon. Slice into 3cm diagonals. Gently layer watercress, cucumber, tomatoes, feta (roughly crumbled into large chunks), onion, olive, mint and oregano onto a large platter. Shake dressing ingredients together in a small jar to combine. Pour over salad five minutes before serving and finish with a last good grinding of black pepper. Serves 6-8.