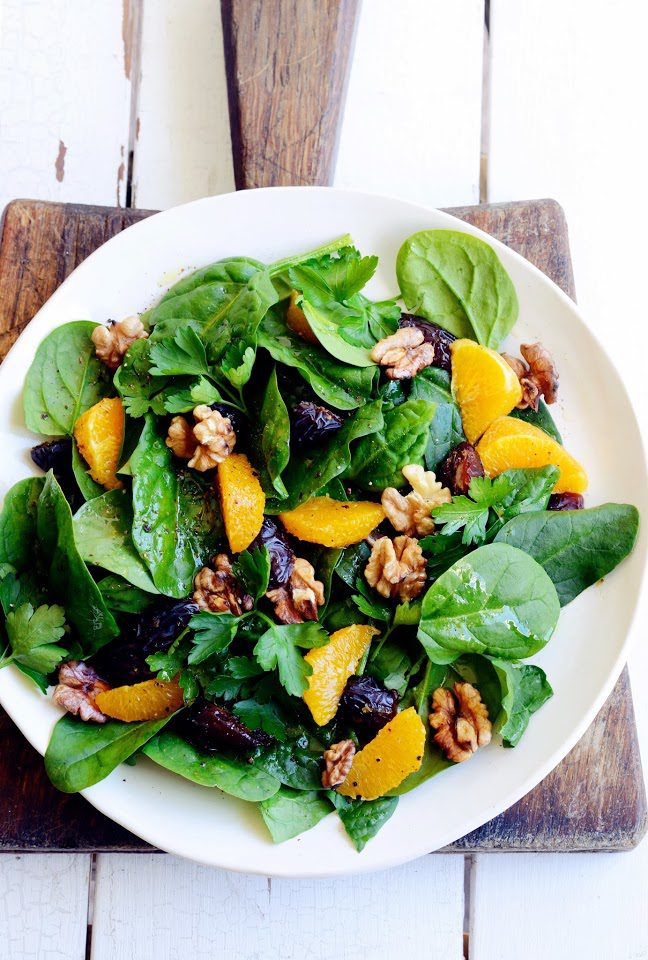 Well that's it – the local manicurists salon has their Christmas tree
up, we've had to take half the blankets off the bed and we heard the
first cicada of the season a couple of days ago – officially the first
day of summer is December 1st but I am declaring barbecue season
'open'. This is a super-quick and easy salad that is fresh and bright with citrussy flavours of orange and lemon, earthy parsley and spinach, sweet dates and nutty walnuts. It works particularly well with barbecued lamb, but would also be great with firm white fish or beef – ideally seasoned with Moroccan or middle eastern spices such as cumin or coriander. I served it very successfully with a leg of lamb studded with garlic and slow-roasted on the barbecue for 5 hours.
Don't forget to zoom on over and say 'hi' at my
Facebook
page or leave me a comment about what kind of recipes you are keen to see on the blog – I really love hearing from you! Tomorrow keep an eye out for my up-date on the traditional Greek salad…
8 handfuls baby spinach, washed (around 250g)
1 cup roughly chopped flat-leaf parsley
2/3 cup lightly toasted walnuts
2/3 cup medjool dates, stones removed and roughly chopped
2 oranges, peeled and cut into segments
Dressing:
1/4 cup extra virgin olive oil
4 tbsp lemon juice
2 tbsp orange juice
grated zest of 1/2 orange
1 tsp caster sugar
sea salt and freshly ground black pepper
Layer salad ingredients into a large serving bowl or platter. Shake dressing in a small jar to combine and drizzle over just before serving. Toss and serve. Serves 8