Good Friday morning – woah that just made me think about Easter coming soon – where is this year going?!? Today's recipe is one I put together for the lovely Dish magazine, and it's an ideal super-easy autumn weekend baking project. The mini loaves (or you can make them as muffins) are moist and flavour packed with herby pesto, Parmesan, sweet kumara (sweet potato) and semi-dried tomatoes and prosciutto, with the nubbly crunch of walnuts for texture. They freeze well but are best eaten warm with an afternoon cup of tea or dunked into hot soup – and in my head the perfect scenario is after a bracing wind-whipped walk along a beach by a stormy sea! But playing cards and listening to music or lying on the couch watching Netflix will also do…
Anyhoo – what else is happening? Henry has had a gorgeous romantic weekend with the darling William to celebrate a year of dating, and very soon they will be moving in together in a fabulous new (old historic) flat in Melbourne. I have asked Pog to take before and after pictures of the apartment as I can't wait to see how he transforms those lovely old bones. Meanwhile Hoob is getting on with the business of uni life in Welly – I love the tiny glimpses into his days I get via random pics – helping a mate with a uni film project, sitting in a lecture theatre – or very impressive home-made pizzas cooking away in the oven. Thank God for the ease of communication via social media, I miss my lovelies enough as it is, I don't know how I'd cope with a fortnightly postcard or phone call!!!
And me – yoga (day 31 in a row today, please no more utkatasana/chair pose my legs are shaking at the thought), and book, Cuisine, Fairfax and Dish work fill my days. The one stellar outing I had recently was to see Adele in concert, singing her heart out in torrential rain in Auckland. She is so bloody amazing, so warm, vibrant and real with that unbelievable voice and music. It was fantastic. Oh I and how can I forget (it's becoming a dreadful habit Aida!) I had a hilarious night out with a dear Sydney mate and her lovely husband – great food, (Amano – always brilliant), many glasses of wine and late-night rum cocktails with plenty of deep and meaningful talk (that'll be the cocktails) and much laughter. Such a huge treat. And my darling nephew Rupert (how good is his name?) stayed for a week while my big sister celebrated her birthday and a long over-due change of work with her hubby James in Brisbane. I think that's all my scrambled brain can remember at the moment, so that's me over-and-out…the next recipe will be up on Wednesday. See you then 🙂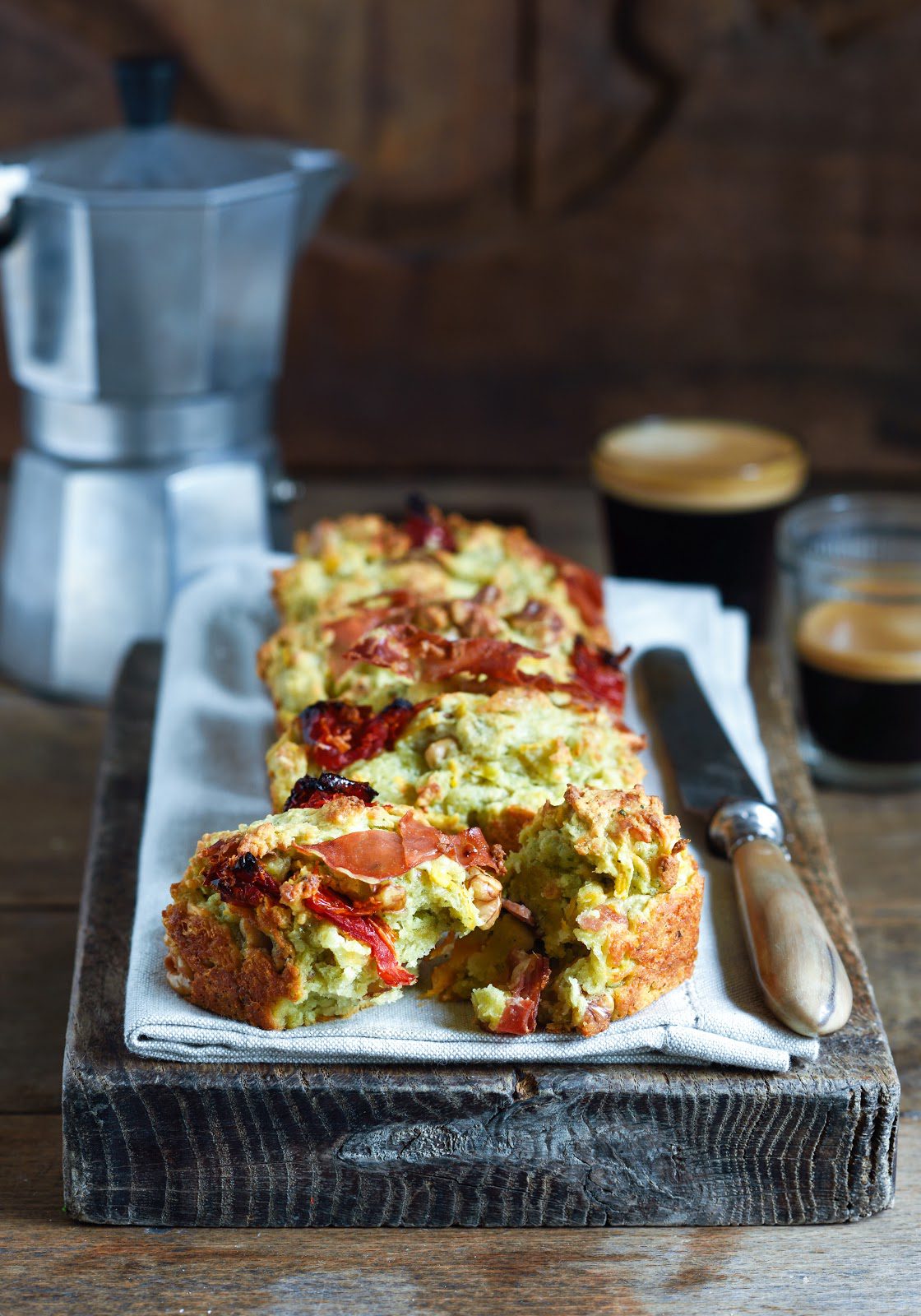 1/3 cup basil pesto
1 2/3 cups Greek natural yoghurt
2/3 cup olive oil
2 eggs
1 cup grated Parmesan
2 1/3 cups self-raising flour
1 1/2 cups grated kumara
100 grams roughly chopped prosciutto (or ham)
1/2 cup chopped, semi-dried tomatoes
2/3 cup walnut pieces
Preheat oven to 180˚C (350˚F) and grease 14 loaf mini loaf tray or 12 hole (1/2 cup size) large muffin tin. Put pesto, yoghurt, olive oil and eggs in a big bowl. Season well with salt and pepper and whisk to combine. Add cheese, flour, kumara, proscuitto, tomatoes and walnuts and stir together – it will seem quite stiff at this point. Divide between prepared tins and bake for 20-25 minutes until golden and cooked through.