Holy moly did it rain last night (in Auckland) or what??? Happily I am still tucked up in bed with my cup of tea and heading to a slightly later yoga session today – that would be for day 36 in a row – wooooo – almost at my 40 day target! Actually I love the rain (the humidity I'm not so fond of), the feeling of hunkering down while the elements rage outside is just my cup of tea 🙂 As is this salad (segue right there) – it has all of the lovely comfort factors that you need in an autumnal salad – sweet roasted beetroot, carrots, parsnip and kumara (sweet potato), paired with intense semi-dried tomatoes, salty feta, bitter greens and crunchy fresh walnuts. My favourite part though is the pesto made with walnuts and a basil/parsley combination…my new favourite. It is both hearty and healthy, and bloody delicious, so I reckon pretty bloody perfect for the moment!
Hm – what else for today? Rich returned from his trip to see Henry in Melbourne last night – it made me so incredibly happy to think of the two of them together, and by all accounts they had a lovely, jolly time – hurrah! The downside for Hoob is being plonked back in a flat with eight others and a uni assignment due – not exactly unusual, but not the most fun ever either. Meanwhile the countdown is on for Pog and Will to move into their new flat – I am so excited for them both, such a wonderful grown up adventure. Meanwhile I have been working on my latest Cuisine spread (shot yesterday), and wrangled with one bloody recipe with seven tests…not one to be included I feel! However I subbed it for another and the whole thing looked beautiful – so phew. Apart from that I am feeling so good at the moment, is it the yoga, the rain and change of seasons or just a state of mind – who cares, I am going to enjoy it! Back to the book for the rest of the week – see you again soon with a wee Easter recipe before the holiday break 🙂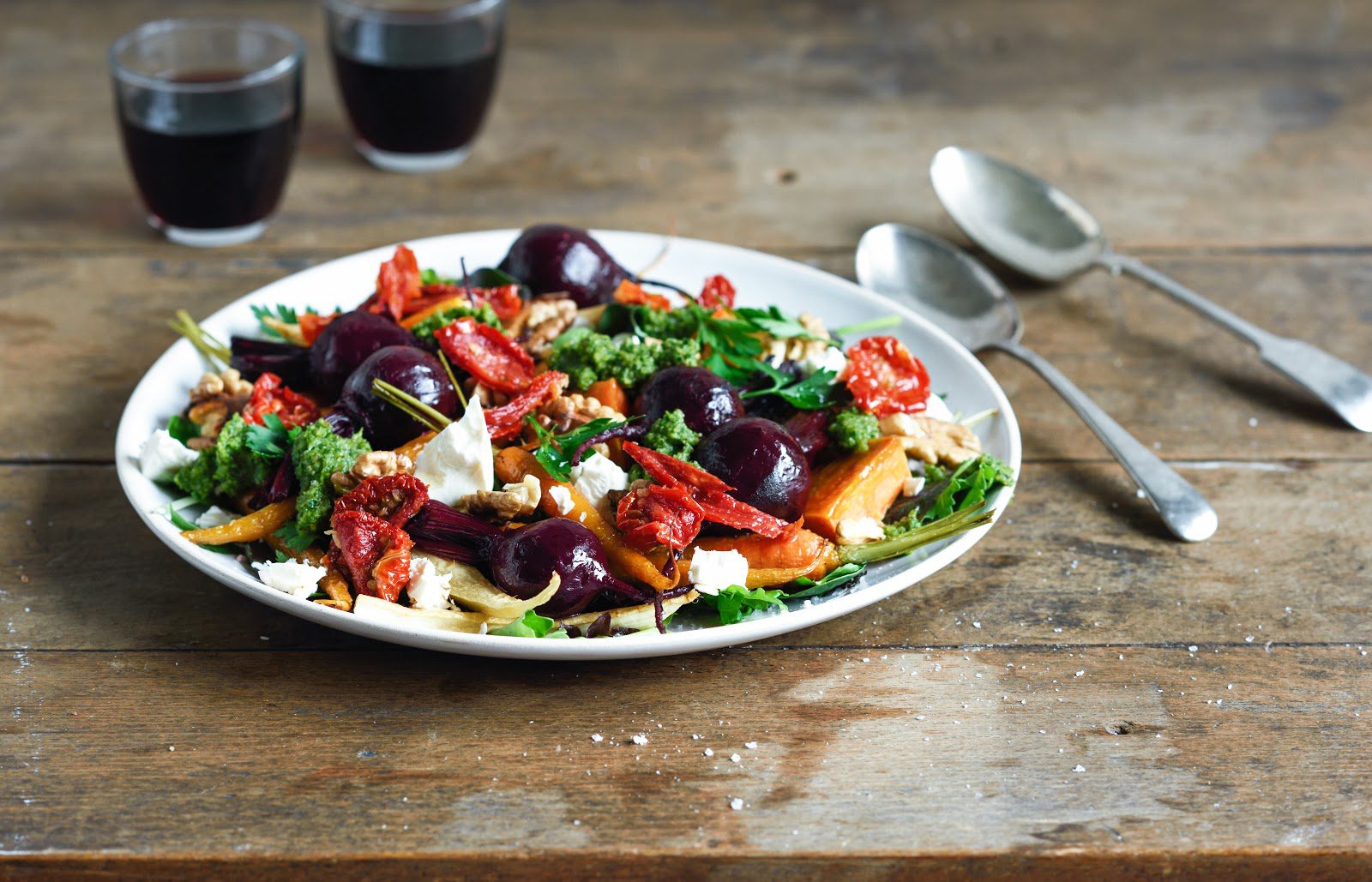 Walnut, Parsley & basil pesto:
1 cup parsley leaves
1 cup basil leaves
1/3 cup extra virgin olive oil
¼ cup grated Parmesan
1 clove garlic, crushed
½ cup walnuts
1 teaspoon cider vinegar
salt and pepper to taste
Put all of the ingredients in a small food processor and whiz to combine. I like my dressing quite chunky but if you want to thin it for drizzling, add another few teaspoons each of olive oil and water.
Roast root vegetable salad with feta & semi-dried tomatoes:
12 baby beetroot
4 tablespoons extra virgin olive oil
3 teaspoons balsamic vinegar
12 baby carrots
3 small parsnips, cut to match carrot size
1 large kumara, chopped into  5cm pieces
1 tablespoon runny honey
6 cups mixed salad greens
200g soft feta, crumbled
½ cup semi-dried tomatoes, halved
½ cup lightly toasted walnuts
2 teaspoons walnut oil or extra virgin olive extra
Preheat the oven to 200˚C. Line a baking dish with two pieces of tinfoil, using enough so that when you put in the beetroot you will be able to draw the sides up and make a foil parcel. Add baby beetroot and drizzle with 2 tablespoons of olive oil and the balsamic vinegar. Season well with salt and pepper, draw up the sides and add ½ cup water. Seal the top by scrunching and bake the beetroot for 40-45 minutes until tender. Leave to cool. Reduce the oven temperature to 180˚C and put carrots, parsnips and kumara in a baking dish. Drizzle with remaining oil and drizzle with honey. Season well with salt and pepper and cook for 25 minutes until tender then leave to cool. Use a small sharp knife to peel the skins off the beetroot. Layer the salad greens onto a serving plate and top with carrots, kumara, beetroot, crumbled feta, semi-dried tomatoes and toasted walnuts. Drop teaspoons of pesto onto the salad, serving the remainder on the side. If desired drizzle with a little walnut oil to serve. Serves 6